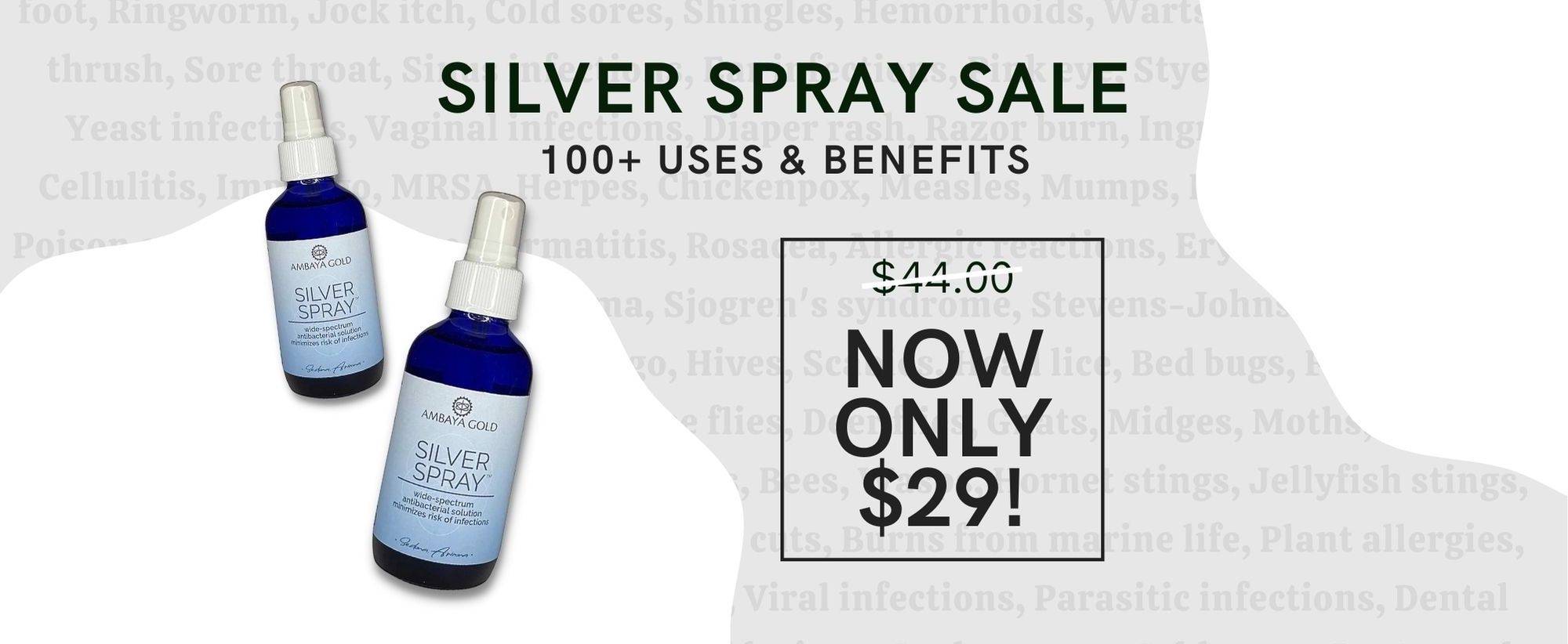 Are you tired of dealing with the discomfort and long healing time after getting a scrape or small cut?
Have you ever dealt with a pesky sunburn or acne?
Due to its very potent antibacterial properties, Monatomic Silver is an effective natural alternative to traditional external care methods and has well over 100+ uses!
Silver Spray with Over 100+ Uses.
Get it now for $29!


100+ External Uses for Monatomic Silver
Ingrown hairs
Boils
Cellulitis
Impetigo
MRSA
Herpes
Chickenpox
Measles
Mumps
Rubella
Poison ivy
Poison oak
Poison sumac
Dermatitis
Erysipelas
Gangrene
Lichen planus
Lupus
Scleroderma
Sjogren's syndrome
Stevens-Johnson syndrome
Toxic epidermal necrolysis
Vitiligo
Hives
Scabies
Wound care
Burns
Insect bites and stings
Sunburn
Acne
Eczema
Psoriasis
Athlete's foot
Ringworm
Jock itch
Cold sores
Shingles
Hemorrhoids
Warts
Canker sores
Oral thrush
Sore throat
Sinus infections
Ear infections
Pink eye
Styes
Swimmer's ear
Yeast infections
Vaginal infections
Diaper rash
Bed bugs
Fleas
Ticks
Mosquitoes
Chiggers
Sand fleas
Horse flies
Deer flies
Gnats
Midges
Moths
Silverfish
Ants
Spiders
Scorpions
Bees
Wasps
Hornet stings
Jellyfish stings
Plant allergies
Fungal infections
Bacterial infections
Head lice
Stingray stings
Coral cuts
Viral infections
Parasitic infections
Dental infections
Gingivitis
Periodontitis
Oral lesions
Canker sores
Cold sores
Root canals
Tooth extractions
Mouth ulcers
Halitosis
Tonsillitis
Sore throat
Strep throat
Laryngitis
Bronchitis
Burns from marine life
Pneumonia
New piercing healing
Rosacea
Allergic reactions
Razor burn
Tattoo healing
Inspired by Ayurveda,
Backed by science.
Nature's Most Effective Antibacterial
Monatomic Silver is effective in preventing infections. It provides relief without burning or any other uncomfortable feeling. It has been shown to promote the growth of new skin cells and reduce inflammation, leading to faster healing times and less scarring. Monatomic Silver has been found to enhance the healing process by accelerating the production of collagen, which is essential for skin repair. It also helps to reduce the formation of scar tissue, resulting in a smoother, more even skin texture.
Silver has been used in modern medicine as well, with several studies showing that it can help to heal chronic wounds that have not responded to other treatments. For example, one study found that a wound dressing containing Monatomic Silver was effective in healing diabetic foot ulcers.
Anti-inflammatory Properties
In addition to its antibacterial properties, Monatomic Silver also has anti-inflammatory properties. It has been shown to reduce inflammation in the skin, which is a common cause of redness, swelling, and pain. This makes it an effective treatment for conditions such as rosacea, psoriasis, and eczema, which are characterized by inflammation.Silver has also been found to have antioxidant properties, meaning it can help to protect the skin from damage caused by free radicals. Free radicals are unstable molecules that can damage the skin and lead to premature aging. By neutralizing free radicals, silver can help to keep the skin looking youthful and healthy.
Monatomic Silver has been found to help reduce the appearance of fine lines and wrinkles, as well as improve skin elasticity. It can also help to even out skin tone and reduce the appearance of hyperpigmentation.In addition, silver can help to regulate the skin's natural microbiome, which is the collection of microorganisms that live on the skin's surface. When the microbiome is out of balance, it can lead to a range of skin problems, such as acne and eczema. Silver can help to restore balance to the microbiome, leading to healthier, clearer skin.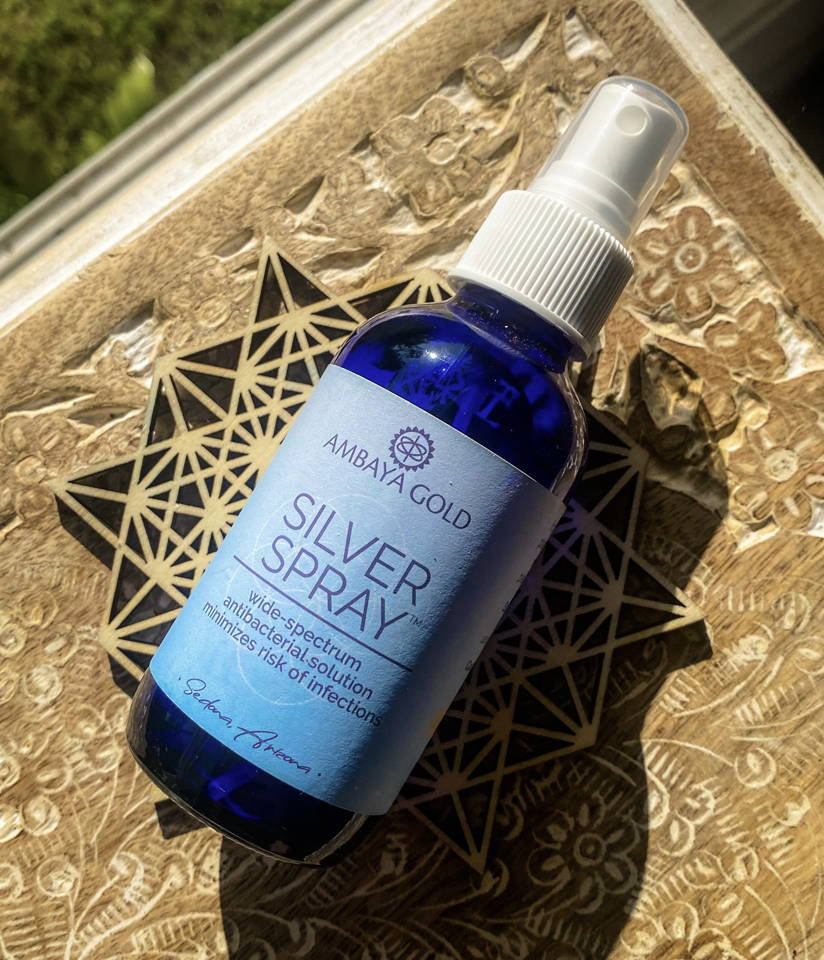 "My husband gets a lot of cuts on his hands while working. He uses this instead of peroxide! It works great to prevent infections in his wounds. I have a pug that has issues with his face. This also works great for that!"
-Patricia H.
2/16/2022
Silver Spray with Over 100+ Uses. Get it now for $29.00!